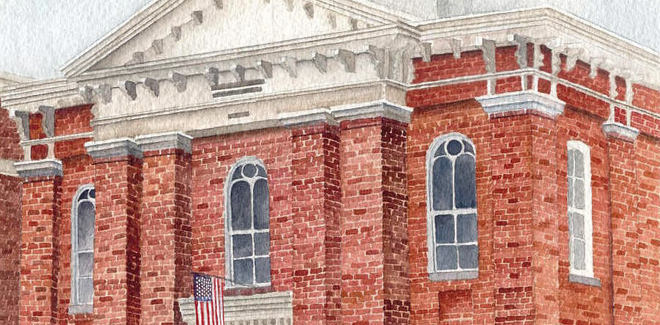 Watercolor by Kathleen S. Howell. NOTE: The courthouse pictured may be historic and not necessarily the county's operating courthouse.
Adams County
Frequently Asked Questions
‌

How do I apply for a marriage license?

To obtain a Pennsylvania marriage license, both applicants must appear at the county court together in person. Applicants must provide a valid identification and social security cards. If an applicant has no valid form of identification, a birth certificate is required. Applicants must also provide certified divorce decrees and death certificates if applicable. The fee to apply for a marriage license is $60.

‌

How do I apply for child support?

Requests for child support must filed in the Domestic Relations Office. Complaints for support may be filed by scheduling an appointment with our intake department or your attorney may file on your behalf. DRS will schedule a conference and notify parents of the date and time of. Both parents are required to appear.

‌

How do I pay court costs & fines?

All court fines and fees can be paid online using the Pennsylvania Judicial System's PAePay service.
‌
Resources For Adams County
‌