News
PA Courts Launch New Subscription Feature for Court News and Updates
News Article
February 16, 2021
In a continued effort to ensure Pennsylvania's Courts remain transparent and accessible, the Administrative Office of Pennsylvania Courts (AOPC) today launched a web feature allowing the public to sign up to receive court news, information and updates via email.
"The COVID-19 pandemic has made it more evident than ever before that timely access to court updates is imperative for the public, attorneys and local and national media," said Court Administrator of Pennsylvania Geoff Moulton. "While social media has opened new doors for us, we are excited to be able to add this new feature that will allow us to expand how we communicate with court users, media and the public."
The new "opt-in" feature available on PaCourts.us offers:
Alerts about new opinions, orders and filings in Pa appellate courts (Commonwealth, Superior, Supreme)
Monthly infographics and other public court data
Educational outreach and videos
Anyone interested in subscribing may simply enter an email address and select the subscriptions they wish to receive. All subscribers can unsubscribe at any time using the same form.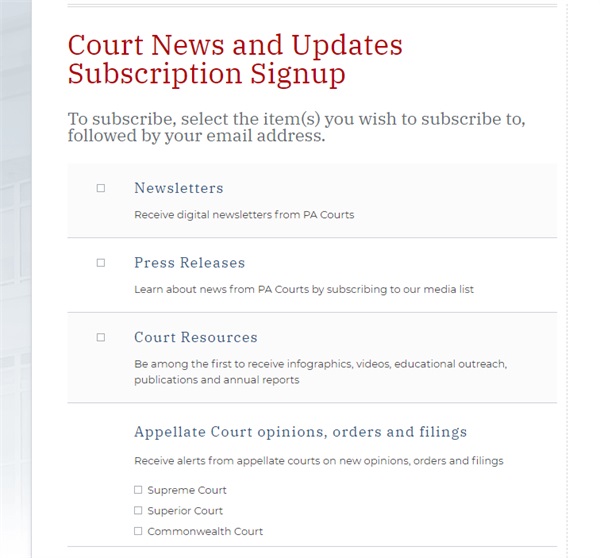 ###
Media contact: Kim Bathgate, 717-576-4373