News
Delaware County Judge on "Mission" to Change Students Lives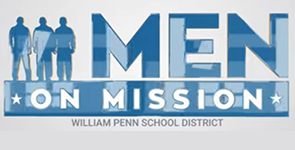 News Article
April 14, 2022
Following a growing number of violent altercations in a local school, Delaware County Magisterial District Judge W. Keith Williams II is heeding a call to help students succeed through a new program called "Men on a Mission."
Developed in December by the William Penn School District, the program aims to bring volunteer community leaders into the high school to offer guidance and assistance to students in need, giving them support that program organizers hope will carry them through their personal and future professional lives.
"We all must do our part to inspire and to ensure a good future for of our children. It is important for young adults to see and to hear success stories," said Judge Williams.
"As a graduate of Penn Wood High School, Class of 1983, I'm able to relate to the students. I share with them my experiences and what steps I took to become an attorney and district judge, with the hope of inspiring them."
In an informational video released by the Courts, Judge Williams said, "In life, there are going to be challenges and how you deal with those challenges will determine where you are ultimately -- but you just have to figure out how to be agile and to overcome the obstacles."
Watch the full video here.

Men on a Mission | William Penn School District | Judge Williams
# # #
Media contact: Kimberly Bathgate, 717-231-3331