News
Pennsylvania Supreme Court Announces Passing of Chief Justice Max Baer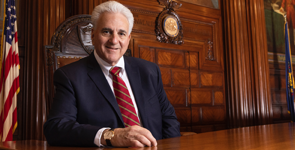 News Article
October 01, 2022
The Pennsylvania Supreme Court is confirming the sudden passing of Chief Justice Max Baer. Baer died at his home near Pittsburgh. He was 74 years old.
As the justice of longest and continuous service on the Court, Justice Debra Todd now becomes Chief Justice of Pennsylvania.
On behalf of the Court, Justice Todd offered the following statement:
"This is a tremendous loss for the Court and all of Pennsylvania."
"Pennsylvania has lost a jurist who served the Court and the citizens of the Commonwealth with distinction. Chief Justice Baer was an influential and intellectual jurist whose unwavering focus was on administering fair and balanced justice. He was a tireless champion for children, devoted to protecting and providing for our youngest and most vulnerable citizens.
"His distinguished service and commitment to justice and fairness spanned his decades on the bench – first as a family court judge in Allegheny County and eventually as administrative judge in family court before being elected to serve on the Supreme Court.
"On behalf of the Court, we offer our deepest condolences to family, friends and colleagues of Chief Justice Baer."
###
Media contact: Stacey Witalec, 717-877-2997