News
Pennsylvania Courts Launch New Interactive Magisterial District Court Map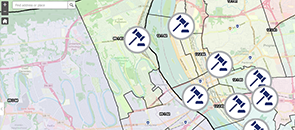 News Article
May 03, 2023
The Pennsylvania Courts, in partnership with the Pennsylvania State Data Center, have developed a new interactive tool that allows users to visualize the boundaries of all 509 magisterial district courts (MDC) in Pennsylvania.
Using the MDC map, individuals will be able to locate MDC office locations and pinpoint other key criminal justice stakeholder locations including police departments, prisons and county courthouse locations.
"Every ten years, the boundary lines of the state's magisterial district courts may change slightly, and this tool is useful to easily reference which court district covers a particular area or jurisdiction," said Christy Beane, assistant director, Judicial District Operations and Programs.
"These boundary lines are not accessible anywhere else online and as such, litigants have traditionally had to call the courts to find out which district court a certain case should be filed in, either based on an address of a defendant or place of incident," she said. "This new map resource should help reduce those number of calls by allowing users to search directly for a district court as opposed to having to go through a third party."
Serving as a valuable tool for judges, court administrators and other judiciary stakeholders, this tool will be helpful in adjusting to the new boundaries for judicial districts that eliminated or realigned magisterial districts as part of the decennial reestablishment process.
###
Media contact: Casey Scheffler, 610-425-1712