News
New Superior Court judges sworn into office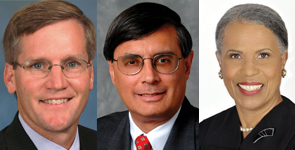 News Article
September 29, 2016
Three people were sworn in as the newest judges of the Superior Court of Pennsylvania during a special ceremony in Philadelphia.
Judges H. Geoffrey Moulton Jr., Carl A. Solano and Lillian Harris Ransom were administered individual oaths of office by Superior Court President Judge Susan P. Gantman. The investiture took place at noon in the Lincoln Room of the Union League of Philadelphia. Gov. Tom Wolf and dozens of fellow jurists from the federal, state and county levels attended — including Supreme Court Justices Kevin M. Dougherty and Sallie Updyke Mundy.
The three newest Superior Court judges were appointed this summer by the governor and confirmed by the state Senate to fill vacancies on the bench.
"These are excellent additions to our bench, who will allow us to continue to provide the timely delivery of justice in one of the nation's busiest intermediate appellate courts," President Judge Gantman said.
Judge Moulton had served as deputy general counsel since January 2015 in the Office of General Counsel, an agency that represents three dozen executive and independent agencies across the Commonwealth. Prior to that, he was a federal prosecutor for eight years and a Special Deputy Attorney General. He received a bachelor's degree from Amherst College and a law degree from Columbia University School of Law.
Judge Solano had chaired the appellate practice and communications and media practice groups at a Philadelphia law firm prior to serving on the bench. He also has handled cases on matters of state and federal constitutional law and health care. He received a bachelor's degree from the University of Scranton and a law degree from the Villanova University School of Law.
Judge Ransom served in the family division of the Philadelphia court system from 1996 to 2002 during which time she served as the statewide chair of the Model Dependency Court Project. She has presided over the court's criminal trial division since leaving the juvenile division. A recipient of numerous community service awards, Judge Ransom earned a bachelor's degree from Hampton University and a master's degree from Temple University. She earned her law degree from St. Louis University School of Law.
Look for a taped broadcast of the oath-taking on the Pennsylvania Cable Television Network (www.pcntv.com).
###
Media contact: Art Heinz, 717-231-3317