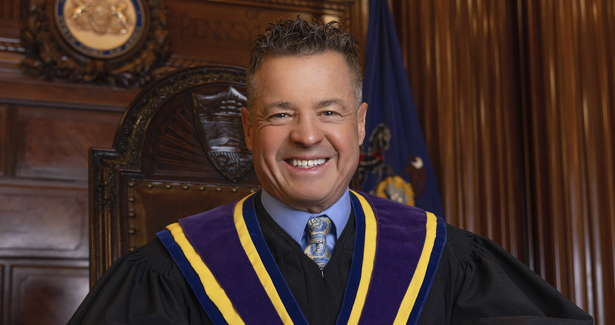 Justice David N. Wecht
Term
January 2016 – January 2026
Education
Yale University, Yale College (B.A.), 1984. Phi Beta Kappa, Summa Cum Laude.
Yale University, Yale Law School (J.D.), 1987. Notes Editor, The Yale Law Journal.
Professional Experience
Adjunct Professor, Duquesne University School Of Law, Pittsburgh, PA, 1997-Present.
Instructor, College of General Studies, University of Pittsburgh, Pittsburgh, PA, 2010-Present.
Visiting Professor, Harry Radzyner Law School, Reichman University, Herzliya, lsrael, July-August 2022.
Professor, Criminal Justice College, East China University of Political Science and Law, Shanghai, China, November 2017-November 2020.
Judge, Superior Court of Pennsylvania, 2012-2016.
Judge, Court of Common Pleas, Allegheny County, 2003-2012 (Administrative Judge, Family Division, 2009-2011).
Register of Wills & Clerk of Orphans' Court, Allegheny County, 1998-2003.
Partner, The Wecht Law Firm, Pittsburgh, PA, 1996-2003.
Associate, Katarincic & Salmon, Pittsburgh, PA, 1993-1996.
Associate, Williams & Connolly, Washington, DC, 1989-1993.
Law Clerk to Hon. George E. MacKinnon, Judge, U.S. Court of Appeals for the D.C. Circuit, Washington, DC, 1987-1988.
Memberships and Associations
Member, American Law Institute.
Member, Judicial Education Advisory Board, Law and Economics Center, Antonin Scalia Law School, George Mason University.
Member, Board of Trustees, Cyril H. Wecht Institute of Forensic Science & Law, Duquesne University.
Member, American Bar Association.
Member, Pennsylvania Bar Association.
Member, Allegheny County Bar Association.
Awards and Honors
Jewish Law Day Award 2016, Louis D. Brandeis Law Society, Philadelphia, PA, May 10, 2016.
Humanitarian Award, J.N.L. Club, 2003.
Certificates of Recognition, Regional Development Funding Corp., Pittsburgh, PA, 2000, 2001.
U.S. Marine Corps Reserve Commander's Award, Toys For Tots, 2001. Certificate of Recognition, Variety Club, The Children's Charity, Pittsburgh, PA, 2000.
Honorary Citizenship, City of Harrisburg, PA, 2000.
The Fabulous Forty Under Forty Award, 1999.
Pittsburgh's Fifty Finest Award, 1997.
Certificate of Distinguished Service, U.S. Court of Appeals, D.C. Circuit, 1989.
Publications
Wrestling With The Baer, 62 Duquesne Law Review _ (forthcoming Autumn 2023).
Nondelegation In Pennsylvania, 46 Harvard Journal Of Law & Public Policy 377 (Spring 2023) (with Lawrence McIntyre).
Incumbent Protection In Legislative Redistricting: First Principles And The Constitution, 32 Widener Commonwealth Law Review 1 (2023) (with Brett Graham).
Majoritarianism Run Riot: Christian Supremacism And The Religion Clauses, 58 Gonzaga Law Review 93 (2022/2023).
Breaking the Code of Deference: Judicial Review of Private Prisons, 96 Yale Law Journal 815 (March 1987).